KDbg - A Graphical Debugger Interface
Home | Screenshots | Download | Change log | Tips & Tricks | Todo | Manual
The Main Window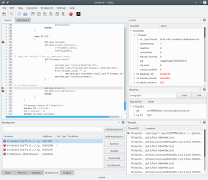 The largest subwindow of the this screenshot is the source code. Below the breakpoint list is visible. The right column shows local variables, watched expressions, and the thread list (from top to bottom).
To the left of the lines of source code the breakpoints as well as the current point of execution are indicated. You see different kinds of breakpoints: normal, disabled, temporary.
Clicking the small '+' signs in front of the source code lines will display the machine code of the source line.
Variables and Watches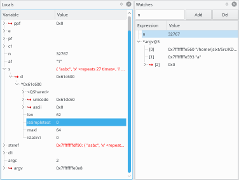 This screen shot shows the local variables (of the current stack frame) and arbitrary watch expressions side by side. Notice that the contents of certain class members are displayed next to the variable, in this case of type QString, although the variable is not expanded. Variables that have changed since the last stop are indicated in red color.
---
Last modified May 01, 2006.

You are visitor number
since February 21, 2001. Thank you!